¡The best Mexican food in South Florida!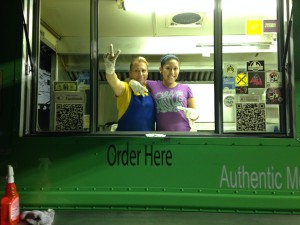 Taco Fresh was formed with the original, Mexican taqueria in mind, which traditionally referred to street vendors.  Founded on the principles of authenticity and freshness, we started with the goal of bringing real Mexican food to the streets of Miami, Fort Lauderdale and all of South Florida in our food truck. Our truck hit the streets in 2011.  Our food is fresh and made to order, with a variety of spicy salsas to choose from.
Our Founder: Alex Esparza
Taco Fresh's founder and head cook, Alex Esparza, has owned and operated different businesses throughout his life, but has always been enamored with his native Mexican food and cooking.  He moved to Florida and saw an opportunity to provide Floridians with a true taste of Mexico with his roaming Mexican food truck, which later became a food truck.
He will tell you that, as with the United States, Mexican cuisine varies by region. Alex is from Monterrey in northern Mexico, and many Mexican dishes that are well known in the U.S. are from northern Mexico, such as the flour tortilla, burritos, the fish taco and grilled carne asada.  He has included a few additional Mexican favorites on his menu, but it is largely based on northern Mexico dishes.  As he has quoted on his truck, "Ser mexicano es un orgullo, pero comer tacos es otro pedo, güey!"